Cinque Terre (Five Towns) is a wonderful area of the Italian Riviera (region Liguria) accessible only by rail or water. These five fishermen villages lay in suggestive locations down to the sea or up on the cliffs. This plot of land has been cultivated with grapes and olives. Harbours, colored houses, medieval fortresses, vineyards and olive groves make this landscapes breathtaking!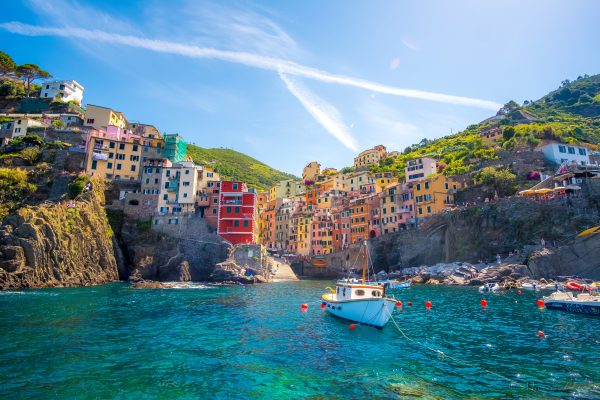 Departure to Venus's Port. Here sails the ferryboat to the Cinque Terre or take train. First stop is Riomaggiore. This village has an urban layout made up of a series of footpaths which follow the outline of the land. These steep footpaths allow direct access to the upper floors of some of the houses, the oldest of which are tower-like and built vertically in parallel clusters.
Overlooking the village is the parish church of Saint John the Baptist. Enjoy a walk on the way of love till Manarola (4 km). The way of love is impossible to miss for its landscapes and it's very easy to find, just to the left of Rio Maggiore station's square you find the beginning of this beautiful footpath. Next is Vernazza, a path with breathtaking views winding along Mediterranean groves and partly deserted fields and vineyards, reaches its peak on the route leading to Vernazza.
By boat you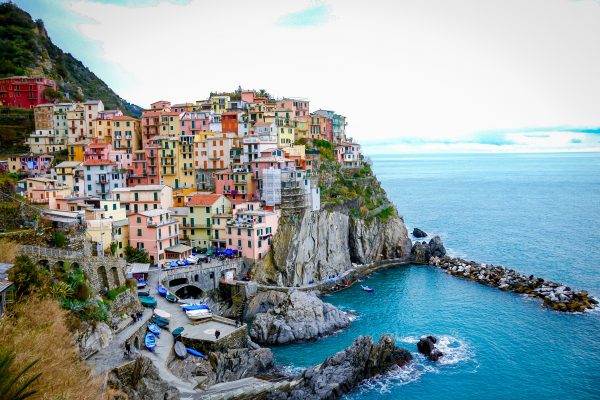 can reach Monterosso al Mare, that is protected by hills covered with vineyards and olive groves and is surrounded by vegetation. Its beautiful beaches, steep rugged cliffs and crystal-clear waters make this one of the most charming resorts on the eastern Ligurian Riviera. The medieval tower separates the ancient part of the village from the modern one. The restaurants offer the chance to taste the local Ligurian dishes (i. e pasta al pesto) accompanied with the famous Cinque Terre wine (Vermentino).
Highlights

Fishermen Villages