Sicily
Discover our SicilyTours and activities in this sunny region in Southern Italy. Sicily is a large island very appealing for art, culture and seaside villages, and it is producer of high quality extra virgin olive oil and wine. The territory is varied with inland mountain chains and level coasts, a big Volcano and several smaller islands. This makes Sicily a perfect place for every type of activity: sightseeing, hiking, bathing, sailing, countryside and 4×4 off road experiences.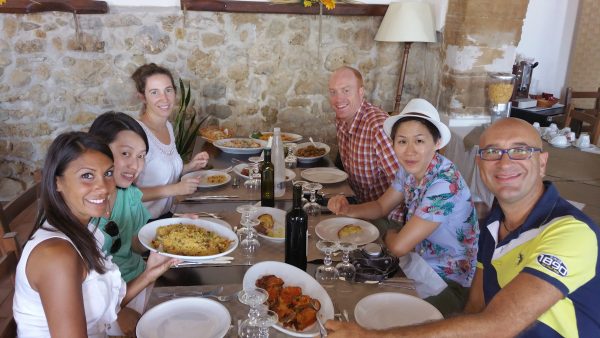 Wine tours are available both in West or East side to savor regional DOC wines, dessert wines and liqueurs from vines variety (as Nero d'Avola, Syrah, Chardonnay, Grillo…) or blends.
Food lovers will be delighted by the Sicilian cuisine: traditional Mediterranean cuisine, street food, typical desserts. Inquire us for a cooking class or for a food experience at winery, farmhouse or with locals.
Sicilian highlights for sightseeing:
In Palermo area, West side: Monreale, Erice, Segesta, Marsala, Cefalù, Castelbuono, Piazza Armerina, Corleone.
In Taormina or Syracuse area, East side: Mt. Etna, Savoca and Godfather villages, Ragusa Ibla and the Baroque towns of Val di Noto.
The Valley of the Temples of Agrigento is in the Southern coast of Sicily and it is reachable both from West or East side.
To really appreciate Sicily you need a stay of almost 4 or 5 days lodging first in West side and then in the Eastern coast. You can have a look at our multi day tours or query us for single day tours, activities and transfer tours. Discover our tour proposal right below and Inquire us for more details and destinations.
Navigate by Tour Categories
Our tour proposal
Palermo, Port of Palermo, Sicily

Suggestive experience at Palermo Markets including tasting of street food. Walking tour through Palermo city center ans visit to the world renowned Monreale Dome with golden mosaics.

Day Tour

Private

half day