Rome Private Guided Walking Tour – half day
Today with this 2,5 hours walking tour you visit: Trevi Fountain, Piazza di Spagna (Spanish Steps) and Barcaccia Fountain (by Bernini), Church of Trinità dei Monti, Piazza Navona and Fontana dei Quattro Fiumi. Among the first things to do in Rome, there is undoubtedly to explore its characteristic maze of streets and its captivating puzzle of fountains and scenographic squares.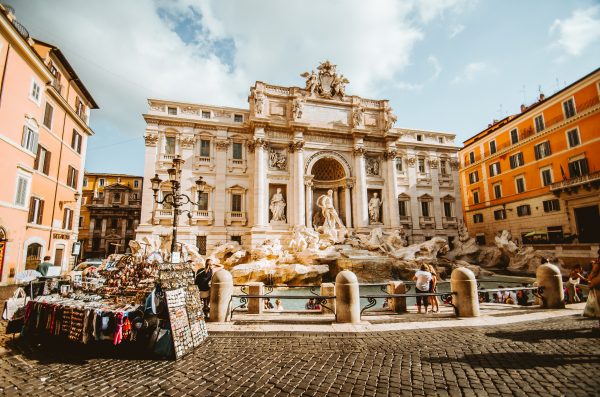 You'll be enchanted by the stunning Trevi Fountain in Fellini's film Dolce Vita. Intricately decorated in the Baroque style, this is the largest fountain in Rome.
Next stop will be the famous Piazza di Spagna with the Barcaccia fountain, by Bernini, in the center of the square. Since 18th century, both Romans and foreign travelers have loved their romantic atmosphere, the classy cafès and boutiques and the nearby monumental Spanish Steps.
Up the stairs, you will also able to admire the picture-perfect Church of Trinità dei Monti, another emblematic panoramic sight of Rome.
Finally, after a nice walk through the streets of the capital, you will arrive in Piazza Navona. It was built over an ancient Roman arena, but it's still considered one of the most joyful and elegant squares in the whole city.
Main attractions are three monumental fountains: the Fontana dei Quattro Fiumi, the Fontana del Nettuno at the northern end and the Fontana del Moro at the southern end.
The breathtaking Fontana dei Quattro Fiumi or Four Rivers Fountain depicts the four big rivers Nile, Ganges, Danube and Rio de la Plata as giant human beings. This fountain is a masterpiece of Baroque sculpture by Bernini.