Sassi of Matera
A tour to discover the ancient city of Matera, where homes and churches are carved directly to the rock in a complex stone labyrinth.
You can combine this tour with the visit to Bari or Alberobello.
Enquire us for all details!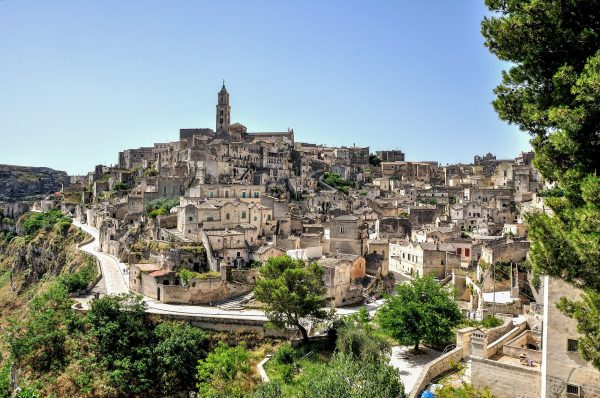 Matera is an astonishing UNESCO World Heritage Site and culture capital of Europe for 2019. This city has gained international fame for its ancient town, the "Sassi di Matera" (meaning "stones of Matera"). The Sassi originate from a prehistoric (troglodyte) settlement, and are suspected to be some of the first human settlements in Italy. Sassi lie along the slopes of a steep gorge in a picturesque twist of caves used as houses, alleys, stone churches, terraces, gardens and tunnel.
Because of the ancient and primitive scenery in and around the Sassi, they have been used by filmmakers as the setting for ancient Jerusalem. A good number of famous biblical period motion pictures were filmed in Matera, amongst which Mel Gibson's blockbuster The Passion of the Christ and Pasolini's The Gospel According to St. Matthew.
Admire Sassi of Matera from the hill opposite the town for a breathtaking panoramic view that you will keep in your memory for a lifetime.
Make your tour longer: combine the excursion of Matera with a visit to Bari or Alberobello. Our Booking office will be glad to offer a solution based on your request. Local Guide available on request.
Enquire us for all details!